非织造织物文本的一个重要组成部分ile industry, due to their unique properties and performance. The growth of nonwoven fabrics in the textile industry can be attributed to technological advancements, increased product development, and greater consumer awareness and adoption.
Nonwoven fabrics, a simple and ancient form of textile, have become a major player in the textile industry due to their unique combination of performance and value compared to traditional textiles. These fabrics are created by joining or wrapping textile fibres together through machine, heat, or chemical processes, without the need for weaving or knitting. The resulting flat or perforated sheets are durable, absorbent, elastic, fire-resistant, and possess other important properties. Despite their lack of cohesion from spinning, nonwoven fabrics can mimic the look, texture, and strength of woven fabrics, and can be used alone or in conjunction with other materials to create a wide range of products for clothing, household goods, health care, engineering, and industrial applications.
Although nonwoven fabrics have a shorter lifespan than traditional textiles, their quick production and unique properties have led to their extensive use in consumer, healthcare, and industrial products. Without nonwoven fabrics, countless products that society and industry rely on would not function properly or be available at an affordable price. The growth of nonwoven fabrics in the textile industry can be attributed to technological advancements, increased product development, and greater consumer awareness and adoption. As nonwoven fabrics continue to expand their range of applications and performance properties, they are likely to remain a key component of the textile industry for years to come.
Nonwoven Manufacturing
There are three main bonding methods used in the production of nonwoven fabrics: chemical bonding, thermal bonding, and mechanical bonding. Mechanical bonding involves using either hydroentanglement or needle punching/ needle felting.
Hydro-entanglement is a process where high-pressure water jets are used to bond together textile and high-performance fibres and their blends to create nonwoven fabric. The fine water jets entangle the fibres, creating a strong bond without the need for chemicals or heat.
Thermal bonding is a commonly used method in nonwoven fabric manufacturing. It involves heating calendar rolls or ovens to a high temperature and using them to bond the fibres together. When the fibres meet, thermoplastic powders are melted to join them. This method offers high production rates due to its speed.
Chemical bonding involves the application of a 'chemical binder' to join polyester and rayon fibres together. This process imparts unique and beneficial characteristics to nonwovens. Chemical bonds (adhesive materials) are used to hold the fibres together in the fabric, and these bonds are typically polymers formed through emulsion polymerisation. Water-based latexes are widely used as binders in nonwoven because of their viscosity and ability to easily penetrate the fabric. The binder is applied, dried, and the water evaporates, creating an adhesive film between the fibre crossings that fuse the fibres together.
针冲压/针毡呢是一个修改啊f the conventional needle-punching technique. The process involves punching the fibrous web with modified needles that move along with the material rather than blocking its passage. The needles are also elliptical in shape, ensuring maximum throughput rate and minimal fibre damage. This method offers higher production rates compared to the regular drive mechanism.
Trade
The global nonwoven fabric export was valued at $31.40 billion in 2021 and is expected to reach $41.10 billion by 2025, at 5.50 per cent CAGR, with the health and hygiene segment being a significant part of the exports. The export of nonwovens in January-November 2022 was $27.76 billion, a 3.74 per cent decline compared to $28.84 billion during the same period in 2021. This decline was mainly led by the drop in demand for face masks and PPE kits.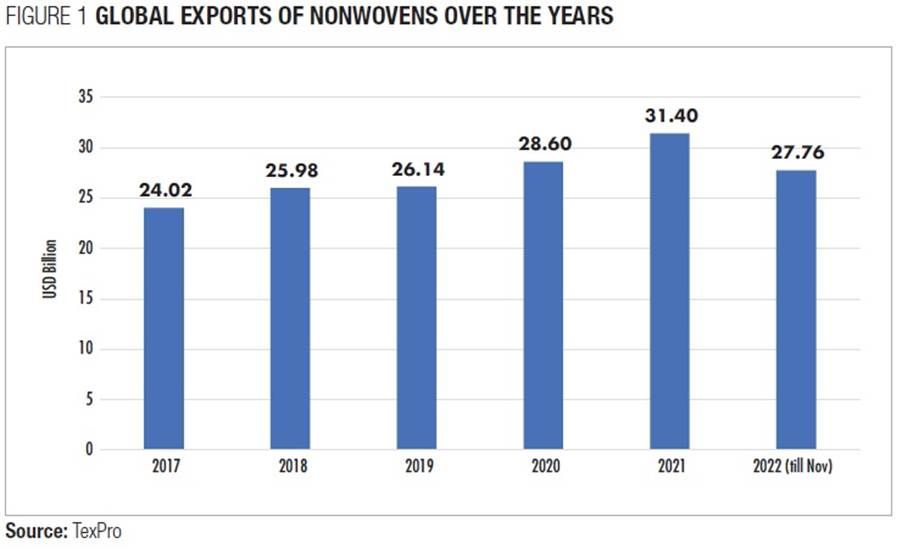 亚洲主导着全球非织造布的出口市场, with a market share of 47.1 per cent and an export value of $15.38 billion in 2021. China (25.6 per cent), Japan (3.9 per cent), and India (1.8 per cent) are the main supplying markets within Asia, representing more than three-fourths of the total nonwoven exports. It is expected that nonwoven exports will continue to flourish as their application in construction and hygiene is likely to register significant growth over the next few years. During 2017-2021, Asia's global market share increased from 43.2 per cent to 47.1 per cent. Products like masks, gowns and wet tissues which were in high demand during 2020 due to the coronavirus pandemic helped the growth rate increase to 18.1 per cent. The ever-increasing need for healthcare assistance and incontinence products and increasing healthcare availability to developing markets are expected to propel the consumption of nonwoven fabrics. Besides, the rising risk from Avian Influenza, SARS, and Swine flu are likely to impact the demand for disposable products positively.
China is the world's leading exporter of nonwoven fabrics, accounting for approximately one-third of global production. In 2021, Chinese exports of nonwovens reached $8.14 billion, representing 25.6 per cent of global nonwoven exports. China is not only the largest exporter of nonwoven fabrics but also has the highest growth rate in nonwoven production. Currently, a significantly large part of the annual production of technical textiles in China is being sold in the domestic market. The Government is giving high priority to augmenting exports and making large investments to facilitate the acceleration of R&D activities in the technical textiles industry to make the Chinese industry more competitive at a global level. The Chinese government is placing a strong emphasis on increasing exports of fabrics that are used in the production of medical textiles and products.
Meanwhile, the US has remained the largest consumer of nonwovens and nonwoven products, and it imported over $87 billion worth of nonwovens in 2022. The main imports came from China, Germany, India, and Japan.
Global nonwoven exports are projected to exhibit a promising growth rate in the coming years, primarily propelled by Asian countries that have enormous potential to augment their contribution to the nonwoven market.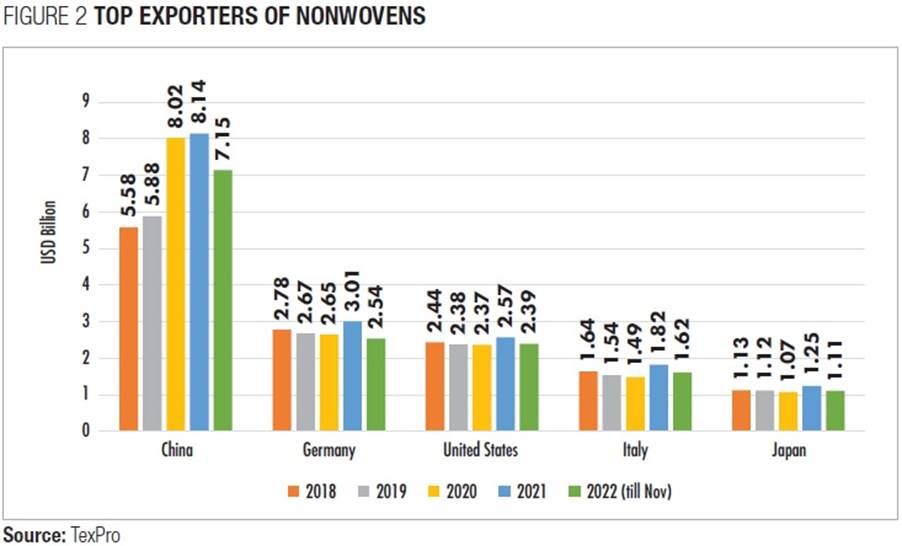 Growth Drivers of Nonwoven Fabric
Nonwoven fabrics have a ubiquitous presence in our daily lives, and their importance has only been magnified by the recent COVID-19 pandemic. The surge in demand for nonwoven materials for face masks and PPE kits during the height of the pandemic was unprecedented, resulting in a rapid investment in the production of nonwovens across the globe. However, as requirements for face coverings in public places have dwindled, demand for these materials have dropped too. Today, as nonwoven manufacturers deal with a significant oversupply, they are looking to applications like filtration, wipes, sorbents, and other areas to use this excess supply.
Medical and healthcare industry:t非织造布已成为一个至关重要的组成部分he medical and healthcare industries, offering vital safety features to prevent infections and diseases. In today's era of multi-drug resistant strains of bacteria and viruses, nonwovens can play a significant role in mitigating cross-contamination and the spread of infections in medical and surgical settings. Since they are meant for one-time use and disposal through incineration, nonwovens eliminate the need for handling and minimise the risk of contaminant transmission. The medical and healthcare sectors use nonwoven products such as surgical gowns, masks, dressings, swabs, under pads, and more to prevent the spread of infections.
The global export of MediTech was valued at $54.5 billion in 2021, up from $41.4 billion in 2019, and down from $98.4 billion in 2020. Meditech export is expected to grow at a compound annual growth rate (CAGR) of 7.03 per cent to reach $76.5 billion by 2027. This growth is primarily attributed to the rising disposable income and health awareness among consumers. As the industry expands, there will be an increasing demand for nonwoven products.
Packaging industry:Nonwoven materials have emerged as a popular alternative to traditional packaging materials, such as paper, cardboard, and plastic, owing to their unique properties such as lightweight, durability, and high strength. Nonwoven packaging materials offer several advantages, including cushioning, shock absorption, and insulation, making them an ideal choice for protecting delicate products during shipping and handling.
One of the most significant advantages of nonwoven packaging materials is their versatility in design, as they can be easily moulded into various shapes and sizes to meet specific packaging requirements. Additionally, these materials can be tailored to provide different barrier properties, making them well-suited for packaging food, pharmaceuticals, and other sensitive products.
Moreover, nonwoven materials offer improved sustainability compared to traditional packaging materials. They are energy-efficient during production, shipping, and storage, and can be reused multiple times, making them a cost-effective solution. This feature has led to the popularity of nonwoven reusable bags, which are lightweight, sturdy, and help to reduce the number of plastic bags used.
The PackTech segment of technical textiles is an essential player in the nonwoven packaging industry, with shopping bags made from spunbond nonwoven fabric being a significant product. The PackTech exports are estimated to be around $84.4 billion in 2021, compared to $81.7 billion in 2019 and are projected to grow at a CAGR of 4 per cent to reach sales of $102.8 billion by 2027.
Automotive industry:Nonwoven fabrics have emerged as a crucial component of the automotive industry, with over 40 automotive parts now being manufactured using these fabrics, from carpets and trunk liners to air and fuel filters. According to EDANA, an international nonwovens association, nonwovens play a vital role in enhancing the performance and safety of automobiles by reducing their weight by 15-30 per cent. Moreover, these fabrics provide advanced insulation, fire retardancy, and resistance to water, fuels, extreme temperatures, and abrasion while enhancing the comfort and aesthetics of automobiles. As a result, nonwovens contribute significantly to making cars safer, more attractive, longer-lasting, cost-effective, and sustainable.
Although textiles account for only 3 per cent of the raw materials used in motor vehicles, compared to steel (60 per cent), plastics (20 per cent), and aluminium (15 per cent), the high potential market for the textile industry is evident from the number of existing vehicles worldwide. The growth of automotive textiles worldwide indicates that it is likely to increase for nonwovens. As per INDA, the association of the nonwoven fabrics industry, the most employed technologies for processing nonwovens for automotive applications are spun-bonded (66 per cent), needle punching (27 per cent), hydroentangled/ resin (6 per cent), and others (1 per cent).
2021年,技术textil MobilTech段es registered an export value of $15.6 billion. It is expected to have significant growth in the future as the expected rapid growth in the mobility market will attract significant capacity addition in the global MobilTech industry. The airbag type is likely to witness the highest growth in the coming years. Regulatory reforms that support the usage of standardised technical textile products such as flame-resistant fabrics, seatbelts, and airbags for cars, are becoming essential in the global market. Such regulations will ensure a better quality of life for consumers and expand the nonwovens market.
Civil engineering and geotextiles:The rise of infrastructure projects has created a surge in demand for nonwoven materials in areas such as water conservancy, highway construction, railway development, and airport projects. These demanding environments require materials that are strong, tear-resistant, lightweight, and tolerant to fluctuations in temperature. Nonwovens satisfy these requirements and can be treated with eco-friendly materials to enhance their water repellence and resistance against biological degradation.
In civil engineering, nonwoven geotextiles are used for soil stabilisation and reinforcement, soil separation, landfill construction, sedimentation and erosion control, weed control, and root barriers. Approximately 750 square kilometres of geotextile nonwovens are manufactured and sold each year, with 60 per cent of this being used in road construction.
Nonwoven geotextiles are lightweight and easy to handle, despite their strength and toughness. Their flexibility and movement make them ideal for use in separation, and they provide cushioning and protection to geomembranes in areas such as landfills, ponds, drainage systems, dams, river canals, embankments, and mining designs. Nonwoven geotextiles are also effective in filtration and drainage applications due to their small opening sizes and ability to filter smaller particle sizes while allowing water to pass through.
Overall, the use of nonwovens in geotextiles contributes to the sustainability and longevity of infrastructure projects. The properties of nonwovens make them an ideal choice for demanding environments, where they can enhance performance and durability. For geotextiles, the export market has been the key driver for growth. The GeoTech exports in 2021 was estimated at $1.7 billion compared to $1.6 billion in 2019 and is expected to grow at 4 per cent CAGR to reach $2.07 billion by 2027.
Agriculture:Nonwoven agrotextiles are specialised products designed for various agricultural practices such as weed control, wind protection, and frost cover. They are also used for adjusting weather conditions to protect plants from sudden temperature and seasonal changes, reducing solar radiation, providing thermal protection, preventing insects and pests, preventing soil drainage and sediment creation. The use of nonwoven agrotextiles in agriculture has shown positive impacts on crop growth, production, and protection all over the world. By preventing weed growth and insect protection, the use of herbicides and pesticides can be reduced. Agrotextiles made of natural fibres can be considered as a potential candidate for replacing some of today's popular synthetic agrotextiles, which are becoming ecologically less acceptable nowadays.
These agrotextiles can be produced from natural or man-made fibres and their blends using various techniques such as needle punching and spunbonding. Jute is mostly used as a natural fibre, while polypropylene is the most common choice for nonwoven agrotextiles made from man-made fibres. However, agrotextiles made of jute and other biodegradable fibres are becoming more popular due to their superior mechanical and functional properties, recyclability, and biodegradability. The natural degradation of these materials also enriches the health and fertility of the soil. Using biodegradable materials for agrotextile products gives benefits to the environment as they are environmentally friendly, non-toxic, and have a low impact on the environment.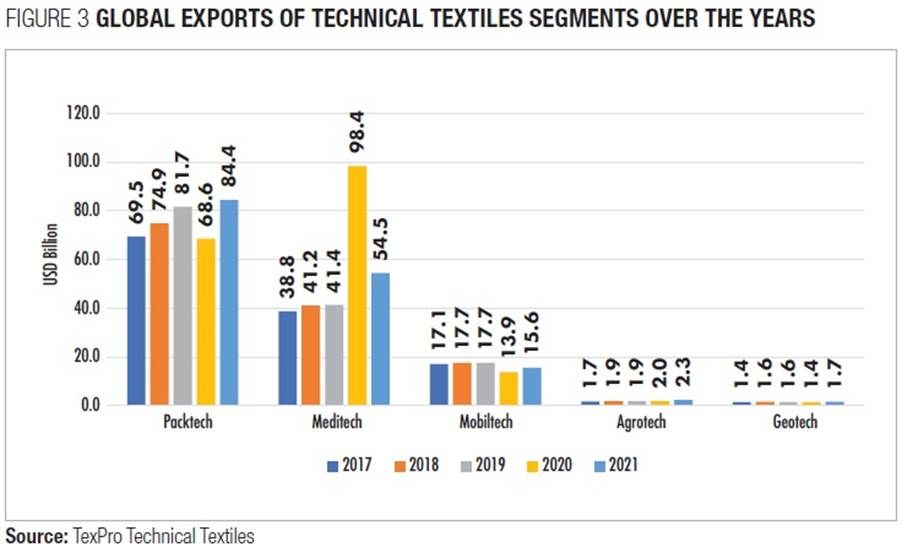 The global export for AgroTech segment of technical textiles stood at $2.3 billion in 2021. It is expected to grow at a CAGR of 6.23 per cent and is likely to be $3.11 billion by 2027. Asia Pacific region led by China, India and Japan has witnessed significant growth owing to the large scale of agricultural operations at the national level. Rising demand for high crop yield and changing climatic conditions have motivated farmers to use nonwoven covers for crop protection.
Conclusion
The nonwoven products market is currently experiencing steady growth, but it must adapt to ongoing changes in the global economy, the availability of raw materials, and the evolving preferences of consumers. Therefore, extensive research is urgently needed on the economic factors associated with nonwoven production.
Nonwovens are among the most versatile textile materials available, and their unique properties and low manufacturing costs have made them increasingly popular in almost all sectors of the economy. However, there is still considerable room for improvement in nonwoven products. Nevertheless, the nonwoven industry has significant growth potential, particularly in Asia, which is the largest exporter of nonwoven products. China and India play crucial roles in this region, and it is an opportune moment for manufacturers to enter the nonwoven product manufacturing industry. Innovation and investment are critical to achieving success in this expanding market. The use of nonwovens appears to have positive prospects, particularly in the nonwoven geotextile, healthcare and packaging market. These fabrics are expected to strengthen their global dominance within the textile industry over the next ten years.